Dayco Light-Duty Serpentine Belt Kit
One part number. One complete solution.
For light vehicle applications that require a thorough and proper front-end accessory drive system repair.
Dayco is focused on expanding its serpentine belt kit line, which is designed for the most popular light-duty applications including trucks, SUVs and business fleets. Covering millions of VIO and ensuring DIYers and technicians have all the parts needed for a complete repair, Dayco kits offer all OE-equivalent components necessary for a complete system repair, including:
Premium tensioners with flat spring technology
Durable idler pulleys with permanently lubricated bearings
Ultra-flexible serpentine belts that provide longer service life while handling higher workloads and temperatures or a self-tensioning ela® belt (as applicable) for easier installation
Our team recommends a systems approach to maintenance. When one component needs replacing, other interconnected components should also be replaced. This enhances performance and helps avoid potential comebacks. That's why we designed comprehensive front-end drive system kits to make the installation process faster than ever – and as easy as possible.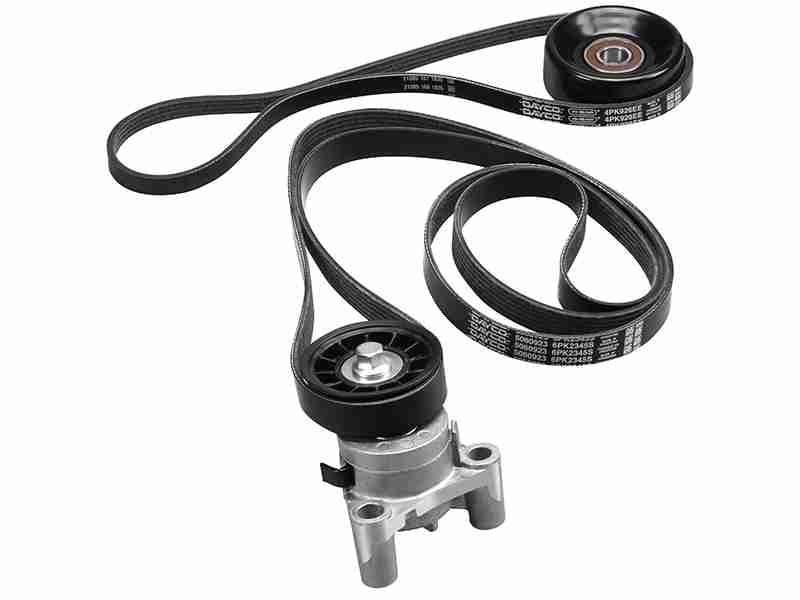 Links are provided below for the top SKUS in this line:
Part #
Year
Make
Model
Liter
VIO
5040378K1
1999-2010
Cadillac, Chevrolet, Fourwinds, GMC, Holiday Rambler, Hummer, Isuzu, Itasca, Winnebago, Workhorse, Workhorse Custom Chassis
Avalanche, Avalanche 1500, Envoy, Escalade, Escalade ESV, Escalade EXT, Express 1500, Express 2500, Express 3500, H2, NPR, NPR-HD, P42, Savana 1500, Savana 2500, Savana 3500, Sierra, Sierra 1500, Sierra 1500 Classic, Sierra 1500 HD, Sierra 1500 HD Classic, Sierra 2500, Sierra 2500 HD, Sierra 2500 HD Classic, Sierra 3500, Sierra 3500 Classic, Sierra 3500 HD, Silverado 1500, Silverado 1500 Classic, Silverado 1500 HD, Silverado 1500 HD Classic, Silverado 2500, Silverado 2500 HD, Silverado 2500 HD Classic, Silverado 3500, Silverado 3500 Classic, Silverado 3500 HD, Suburban 1500, Suburban 2500, Tahoe, Trailblazer, W3500 Forward, W3500 Tiltmaster, W42, W4500 Forward, W4500 Tiltmaster, Yukon, Yukon XL 1500, Yukon XL 2500
4.8, 5.3, 6.0, 6.2
8.346.401
D60930K1
1999-2016
Cadillac, Chevrolet, Fourwinds, GMC, Holiday Rambler, Hummer, Itasca, Winnebago
Avalanche 1500, Escalade, Escalade ESV, Escalade EXT, Express 1500, Express 2500, Express 3500, Express 4500, Express Cargo, Express Pasajeros, H2, Savana 1500, Savana 2500, Savana 3500, Savana 4500, Sierra 1500, Sierra 1500 Classic, Sierra 1500 HD, Sierra 1500 HD Classic, Sierra 2500, Sierra 2500 HD, Sierra 2500 HD Classic, Sierra 3500, Sierra 3500 Classic, Silverado 1500, Silverado 1500 Classic, Silverado 1500 HD, Silverado 1500 HD Classic, Silverado 2500, Silverado 2500 HD, Silverado 2500 HD Classic, Silverado 3500, Silverado 3500 Classic, Suburban 1500, Suburban 2500, Tahoe, Yukon, Yukon XL 1500, Yukon XL 2500
4.8, 5.3, 6.0
6.995.473
D60923K1
1999-2012
Buick, Cadillac, Chevrolet, Fourwinds, GMC, Holiday Rambler, Isuzu, Itasca, Saab, Winnebago
9-7x, Ascender, Avalanche 1500, Envoy, Envoy XL, Envoy XUV, Escalade, Escalade ESV, Escalade EXT, Express 1500, Express 2500, Express 3500, Express Pasajeros, Rainier, Savana 1500, Savana 2500, Savana 3500, Sierra 1500, Sierra 1500 Classic, Sierra 1500 HD, Sierra 1500 HD Classic, Sierra 2500, Sierra 2500 HD, Sierra 2500 HD Classic, Sierra 3500, Sierra 3500 Classic, Silverado 1500, Silverado 1500 Classic, Silverado 1500 HD, Silverado 1500 HD Classic, Silverado 2500, Silverado 2500 HD, Silverado 2500 HD Classic, Silverado 3500, Silverado 3500 Classic, SSR, Suburban 1500, Suburban 2500, Tahoe, Trailblazer, Trailblazer EXT, Yukon, Yukon XL 1500, Yukon XL 2500
4.8, 5.3, 6.0
6.537.312
5060840K1
2003-2017
Acura, Honda
Accord, Accord Crosstour, Crosstour, MDX, Odyssey, Pilot, Ridgeline, RL, TL, ZDX
3.0, 3.2, 3.5, 3.7
3.858.812
D60960K1
1996-2014
Chevrolet, GMC, Isuzu, Oldsmobile
Blazer, Bravada, C1500, C1500 Suburban, C2500, C2500 Suburban, C3500, Express 1500, Express 2500, Express 3500, Express Cargo, Hombre, Jimmy, K1500, K1500 Suburban, K2500, K2500 Suburban, K3500, P30, S10, Savana 1500, Savana 2500, Savana 3500, Sierra 1500, Sierra 1500 Classic, Silverado 1500, Silverado 1500 Classic, Sonoma, Tahoe, Yukon
4.3, 5.0, 5.7
2.362.255
5060840K2
2005-2011
Honda
Accord, Accord Crosstour, Odyssey, Pilot
3.5
1.489.501
D60855K2
2002-2005
Ford, Mercury
Explorer, Mountaineer
4.0
450.020
5060935K1
2009-2015
Cadillac, Chevrolet, GMC, Hummer
Avalanche, Canyon, Cheyenne, Colorado, Envoy, Escalade, Escalade ESV, Escalade EXT, Express 1500, Express Cargo, Express Pasajeros, H2, H3, H3T, Savana 1500, Sierra, Sierra 1500, Sierra 2500 HD, Sierra 3500 HD, Silverado 1500, Silverado 2500, Silverado 2500 HD, Silverado 3500, Silverado 3500 HD, Suburban, Suburban 1500, Suburban 2500, Tahoe, Yukon, Yukon XL 1500, Yukon XL 2500
4.8, 5.3, 6.0, 6.2
3.171.500
5061030K1
2007-2008
Ford, Lincoln
Expedition, F-150, F-250, Mark LT, Navigator
4.6, 5.4
726.807
5060883K1
1999-2006
Jeep
Grand Cherokee, TJ, Wrangler
4.0
737.604
5061015K1
2007-2018
Chrysler, Dodge, Jeep
200, Avenger, Caliber, Compass, Journey, Patriot, Sebring
2.0, 2.4
2.081.676
D80950K1
2007-2018
Lexus, Toyota
GX460, Land Cruiser, LX570, Sequoia, Tundra
4.6, 5.7
1.346.950
5060495K1
2009-2018
Scion, Toyota
Camrty, RAV4, tC
2.5
4.327.525
D60855K1
1998-2007
Ford, Mazda, Mercury
B3000, Ranger, Sable, Taurus, Windstar
3.0
781.775
D60955K1
1988-1995
Chevrolet, GMC, Oldsmobile
Blazer, Bravada, C1500, C1500 Suburban, C2500, C2500 Suburban, C3500, C3500HD, Jimmy, K1500, K1500 Suburban, K2500, K2500 Suburban, K3500, R1500 Suburban, R2500 Suburban, S10, S10 Blazer, S15, S15 Jimmy, Sonoma, Syclone, Tahoe, Typhoon, V1500 Suburban, V2500 Suburban, Yukon
4.3, 5.0, 5.7
1.345.255
5060865K1
2004-2013
Jeep, Ram
1500, Commander, Grand Cherokee, Liberty
3.7, 4.7
696.922
D60950K1
1995-2008
Chevrolet, GMC, Isuzu, Oldsmobile
Blazer, Bravada, C1500, C1500 Suburban, C2500, C2500 Suburban, C3500, C3500HD, Express 1500, Express 2500, Express 3500, Hombre, Jimmy, K1500, K1500 Suburban, K2500, K2500 Suburban, K3500, Savana 1500, Savana 2500, Savana 3500, Sierra 1500, Silverado 1500, Sonoma, Tahoe, Yukon
4.2, 4.3, 5.0, 5.7
1.999.840
A060868K1
2010-2012
Ford, Mercury
Fusion, Milan
2.5
509.617
5070610K1
2006-2018
Lexus, Toyota
Avalon, Camry, ES350, GS300, GS350, Highlander, IS250, IS350, RAV4, RC350, RX350, Sienna, Venza
2.5, 3.0, 3.5
3.588.146
5060915K1
2002-2009
Buick, Chevrolet, GMC, Isuzu, Oldsmobile, Saab
9-7x, Ascender, Bravada, Envoy, Rainier, Trailblazer
4.2
1.011.113
D70973K1
1992-2003
Dodge
D150, D250, D350, Dakota, Durango, Ram 1500, Ram 2500, Ram 3500, Ram 4000, Ramcharger, W150, W250, W350
3.9, 5.2, 5.9
1.440.243
5060875K1
1999-2007
Dodge, Jeep, Mitsubishi
Dakota, Durango, Grand Cherokee, Liberty, Raider, Ram 1500
3.7, 4.7
1.000.233
5060715K1
2014-2018
Cadillac, Chevrolet
Escalade, Escalade ESV, Silverado 1500, Suburban, Tahoe
5.3, 6.2
2.684.612
A060563K1
2013-2020
Nissan
Altima, Rogue
2.5
3.244.350
5050405K1
2000-2017
Buick, Chevrolet, GMC, Oldsmobile, Pontiac, Saab, Saturn
9-3, 9-3X, Alero, Classic, Cobalt, Equinox, G5, G6, Grand Am, HHR, Ion, L100, L200, L300, LS, LS1, LW1, LW200, Malibu, Orlando, Regal, Sky, Solstice, Terrain, Verano
2.0, 2.2, 2.4
3.077.285
5060450K1
2007-2020
Ford, Likncoln, Mazda, Mercury
6, Continental, CX-9, Edge, Explorer, Flex, Fusion, MKS, MKT, MKX, MKZ, Police Interceptor Sedan, Police Interceptor Utility, Sable, Taurus, Taurus X
3.5, 3.7
4.319.922
5060770K1
2011-2020
Chrysler, Dodge, Ram, Volkswagen
200, Avenger, C/V, Grand Caravan, Journey, Routan, Town & Country
3.6
2.270.370
5070835K1
2005-2015
Toyota
4Runner, FJ Cruiser, Tacoma, Tundra
4.0
1.284.592
5070825K1
2005-2012
Lexus, Toyota
Avalon, Camry, ES350, RX350, Sienna
3.5
1.362.737
5060730K1
2009-2020
Ram, Volkswagen
1500, 1500 Classic, Routan
3.8, 5.7
2.044.680
5060930K1
2004-2017
Buick, Chevrolet, GMC, Pontiac, Saturn, Suzuki
Acadia, Acadia Limited, Allure, Captiva Sport, Enclave, LaCrosse, Rendezvous, Torrent, Traverse, Vue, XL-7
3.6
1.200.266
5060875K4
2012-2018
Jeep
Wrangler, Wrangler JK
3.6
1.318.742
5060740K1
1999-2008
Chevrolet, Toyota
Celica, Corolla, Matrix, Prizm
1.8
1.221.118
5060795K1
2008-2018
Chrysler, Dodge, Ram
1500, 2500, 3500, 4500, 5500, Aspen, Durango, Grand Caravan, Ram 1500, Ram 2500, Ram 3500, Town & Country
3.3, 3.8, 5.7, 6.4
1.217.090
A070407K1
2013-2019
Infiniti, Nissan
Altima, JX35, Maxima, Murano, Pathfinder, Quest, QX60
3.5
1.275.882
5060835K1
2011-2017
Hyundai, Kia
Optima, Sonata, Sorento, Sportage, Tucson
2.0, 2.4
907.798
5060940K1
2007-2012
Buick, Chevrolet, GMC, Saturn
Acadia, Enclave, Outlook, Traverse
3.6
1.005.312
5060950K1
2010-2017
Chevrolet, GMC
Captiva Sport, Equinox, Impala Limited, Terrain
3.0, 3.6
510.886
5070874K1
2005-2019
Nissan
Frontier, NV1500, NV2500, NV3500, Pathfinder, Xterra
4.0
1.251.479
5060650K1
2014-2020
Ram
ProMaster 1500, ProMaster 2500, ProMaster 3500
3.6
215.010
5060865K4
2014-2020
Ram
ProMaster 1500, ProMaster 2500, ProMaster 3500
3.6
215.010
5060870K1
2011-2013
Ford
Transit Connect
2.0
99.690