The Top 8 Reasons Why Radiator Hoses Leak
Coolant hoses have a tough job – they move chemicals under pressure and massive amounts of heat so they can be more prone to failure. So what causes coolant hoses to leak? Here's the top issues we see among today's cooling system hoses.
1. ABRASION
Problem: This hose has been rubbing on a component in the engine compartment, which led to a leak. It will soon result in a complete failure and possibly overheat the vehicle.
Solution: Replace the hose and clamps, verify that any abrasion sleeves or hose retainers are in place to prevent the hose from rubbing.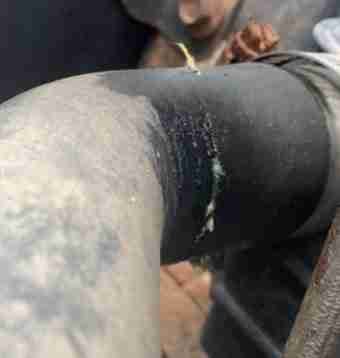 2. CREVICE ATTACK
Problem: It sounds like your next horror movie but what we're dealing with is incorrect placement of the clamp in relation to the bead on the hose neck. That's why it's bulging. The clamp should be as close to the bead as possible. When it is positioned away from the bead, it forms a void that will fill with coolant additives and rust from the cooling system, eventually causing a leak or damage to the hose neck.
Solution: Replace hose and clamp, verify that any abrasion sleeves or hose retainers are in place to prevent the hose from rubbing.
3. INCORRECT CLAMP REPLACEMENT
Problem: While Dayco does not recommend removing and reinstalling a used hose, it does happen. The spring style clamp should always be placed in the grooves from its previous placement. If not, it will usually cause leaks.
Solution: Replace the hose and clamps.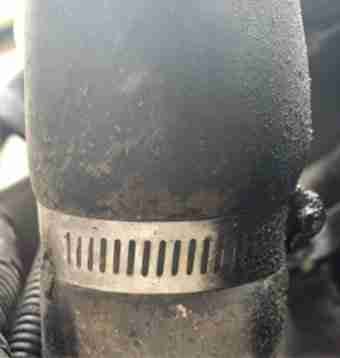 4. CONTAMINATION
Problem: Contamination is usually caused by oil or grease coming in contact with the hose, eventually leading to hose swelling and failure.
Solution: Fix source of oil leak, replace hose and clamp.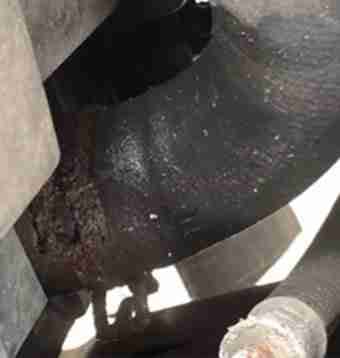 5. SWOLLEN HOSE
Problem: This is a classic example of a hose damaged by contaminants. You can see the hose has swelled and is very close to total failure.
Solution: Repair source of contamination, replace hose and clamps.
6. COOLANT CONTAMINATION
Problem: Modern coolants can last a long time. That said, they still need to be flushed, cleaned and refilled with OE specified coolants. Failure to follow proper maintenance recommendations will cause coolant additive drop out and rust in the system. This can lead to serious damage to hoses from the inside out and can also cause water pump failures.
Solution: Follow the OE recommended coolant change/flush intervals using coolant meeting OE specifications.
7. RUSTED CLAMPS
Problem: Many states use salt to melt road ice in the winter. These salts can cause rapid rust on some hose clamps. If the clamps look like this, they should be replaced before they fail.
Solution: Remove and replace with top quality hose clamps.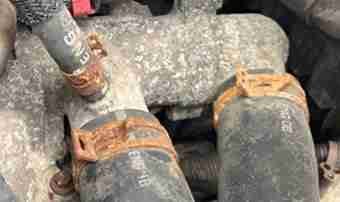 8. IMPROPER INSTALLATION
Problem: This hose is kinked because it was not cut to fit correctly. A kinked hose can restrict flow on the coolant bypass. The coolant circuit is important in allowing coolant flow when the thermostat is closed during cold starts.
Solution: Compare the new hose to the old one and trim to fit properly.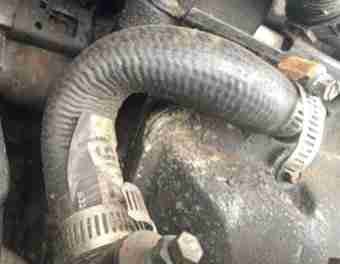 If you are dealing with a hose that doesn't have any of the above imperfections, give the hose a squeeze between the thumb and fingers. It should be pliable but not soft or mushy. If it's hard to the touch or brittle, it's a sign of degradation and needs to be changed.
Radiator hoses should be inspected every oil change and best practice is to re-place them at the typical 100,000-mile coolant change interval that most vehicles have today.