Choosing the Right Engine Water Pump
Three Tips to Ensure an Automotive Water Pump Meets OE Standards
How do you know you are getting the best quality when it comes to choosing an automotive water pump? Here's a few tips from our ASE certified techs at Dayco:
1. Choose Water Pumps that Meet Testing Standards
Pick a vehicle water pump that is 100% end of line leak tested to ensure better quality. Unlike many of our competitors, we have full control of the entire manufacturing process for our water pump line. With single source manufacturing, we're able to control every quality aspect of product from raw material out of the ground to your completely new water pump.
2. Look for OE Specified Water Pumps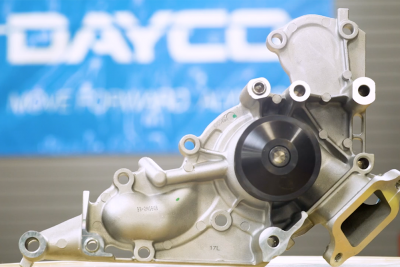 Make sure the pump is OE specified. Dayco works directly with today's car manufacturers on the design and development of original equipment water pumps. Choosing an aftermarket pump from a company with OE experience is critical to ensuring proper quality and superiority in design.
3. Opt for Water Pumps with High-Quality Components
Ensure the water pump is made from high-quality components. For instance, Dayco's water pumps feature:
Gaskets made from high density materials that retain bolt torque and prevent wicking.
A case hardened roller bearing in the hub, making it more robust than pumps that use standard ball bearings.
Silicone/carbide composite seals, which prevent leaks well beyond the life of the expected warranty. Several manufacturers haven't upgraded their seals in years.
An impeller design that follows OE recommendation, which is typically cast iron, die cast or stamped steel. A few automakers use plastic impellers that can sometimes lead to early failures, so Dayco has replaced the plastic impeller design in several water pump models with a robust cast impeller for longer life.
Using a premium water pump – that meets or exceeds OE specifications – will make all the difference for you and your customers. We stand behind our full line of water pumps and timing belt kits with water pumps with a 125,000 mile extended warranty for passenger vehicle water pumps; and 150,000 miles on heavy-duty water pumps.